On June 5th, the NOPP Excellence in Partnering Award was presented by Senator Bill Nelson (D-Fla.) to Dr. Eric Chassignet, lead principal investigator for the U.S. GODAE: Global Ocean Prediction with the Hybrid Coordinate Ocean Model (HYCOM), and 24 partner institutions and organizations.
The awards ceremony took place as part of Capitol Hill Ocean Week 2008 and recognized the HYCOM project's commitment to partnering, the success of the partnership effort, and the impact of the partnership on ocean research.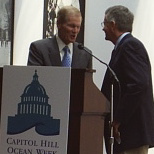 The NOPP excellence in partnering award is presented annually to a completed, NOPP-funded project that best exemplifies the partnership objectives of NOPP. During the past 5 years, Dr. Chassignet and FSU have partnered with 24 academic institutions, federal agencies and members of industry to better provide a global system of ocean observations, communication, and modeling that will deliver regular, comprehensive information on the state of the oceans. Already, this project is providing critical information to the U.S. Navy in its ocean forecasting system and to NOAA in its Real Time Ocean Forecast System for the Atlantic. The HYCOM system will undoubtedly play a vital role in future ocean research as well as real time ocean observing and forecasting.
Congratulations to Dr. Chassignet and all of the participating partners for this outstanding honor!