Monmouth University President Assumes Leadership Role of Federal Advisory Committee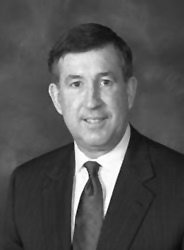 Paul G. Gaffney II Is Named Chair of Influential Group.
(From Monmouth University) — Monmouth University is pleased to announce that on August 12 President Paul G. Gaffney II was named the new chair of the Ocean Research Advisory Panel (ORAP), a panel created by statute to advise federal agencies regaarding ocean science and management matters. The announcement came during the summer meeting of the ORAP in Washington, DC. The ORAP brings together a broad cross-section of the ocean community with diverse experience and expertise to provide balanced and insightful advice.
An active member of ORAP since 2007, President Gaffney takes over the leadership role from the outgoing chair, Dr. Jerry Schubel, president & CEO of the Aquarium of the Pacific and a nationally recognized figure in ocean science, resource management, and education matters.
"I can't imagine anyone better qualified than Admiral Gaffney to chair ORAP," says Schubel. "His distinguished service as chief of Naval Research, member of the US Commission on Ocean Policy, and his present position as president of Monmouth University all combine to give him important perspectives on the need to improve our understanding of the ocean, to use that new knowledge to improve our management of the ocean and its resources, and to protect our national security."
The ORAP met in Washington, DC, this week to address a number of national ocean issues, including integrated ocean observing, offshore renewable energy, ecosystem-based management, and climate and ocean measurements in the Arctic. The group also reinforced the ocean research priorities and opportunities it laid out in a transition document it submitted in November to the incoming Obama Administration. That guidance, as well as all recommendations generated by the ORAP, travels a direct line of communication to the leaders of more than 25 federal agencies whose missions affect, and are affected by, the oceans.
"I am honored to serve with a group of talented panelists who volunteer their time and expertise to advise on the broad federal ocean agenda," said Gaffney. "It will be tough filing the shoes of Jerry Schubel, a true American ocean leader."