Washington, DC – Today, the National Oceanographic Partnership Program (NOPP) presented the research team of the NOPP-funded project Exploration and Research of Northern Gulf of Mexico Deepwater Natural and Artificial Hard Bottom Habitats with Emphasis on Coral Communities: Reefs, Rigs, and Wrecks (also known as Lophelia II) with the 2011 Excellence in Partnering Award at a breakfast held at the MTS/IEEE Oceans '12 Conference in Virginia Beach, Virginia.
The four-year project, led by Dr. Charles Fisher from Pennsylvania State University and Dr. James Brooks from TDI Brooks International, Inc., was the first scientific study dedicated to researching deep-sea corals specifically near sites of actively producing oil and gas platforms in the Gulf of Mexico.  During the last cruise for the project in July 2012, the research team discovered Lophelia coral growing deeper than previously seen anywhere in the Gulf of Mexico, which will significantly advise the protection of deep water corals in the future.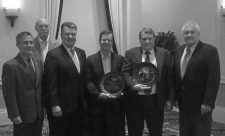 The Bureau of Ocean Energy Management (BOEM), the National Oceanic and Atmospheric Administration (NOAA), and the U.S. Geological Survey (USGS) were the NOPP contributing agencies for the Lophelia II project.  The project was nominated for the NOPP Excellence in Partnering Award by BOEM for its exceptionally diverse partnerships between scientists, graduate students, technicians, public outreach professionals and industry professionals from three federal agencies, 11 private companies and five universities.  All ongoing NOPP projects were eligible to be nominated for the Award.  The Interagency Working Group on Ocean Partnerships (IWG-OP) selected the Lophelia II as the winning project out of 6 nominees.
"It has been a pleasure and an honor to be part of this multidisciplinary project that is using great basic science to significantly increase our understanding of the deep Gulf in fundamental ways," said Charles Fisher, Lophelia II Co-Principal Investigator and Professor of Biology at Pennsylvania State University.  "The research will help resource managers to protect these ecosystems and the biodiversity they harbor for future generations."
"As a Program that is built on successful collaboration and coordination, the NOPP Office is pleased to honor the Lophelia II project team with the 2011 Excellence in Partnership Award for exhibiting exemplar partnerships in ocean science," said Allison Miller, NOPP Office Program Manager.  "The Program Office applauds the contributing agencies of this project for supporting and nominating such a diverse, first-of-its-kind deep-sea coral study."
Craig McLean, NOAA Deputy Assistant Administrator for Programs and Administration and Co-Chair of the IWG-OP, served as the Master of Ceremonies at this morning's Award Breakfast.  Both Dr. Fisher and Dr. Brooks were on hand to accept the award and a scientific presentation by Dr. Fisher followed.
More information on the Lophelia II project can be found here and here.  For more information on NOPP, visit the program's website.