NOPP Partners Launch Arctic Ecosystem Study
The Bureau of Ocean Energy Management (BOEM) and National OceanographicPartnership Program (NOPP) partners announced the award of a study titled "Marine Artic Ecosystem Study (MARES)-Ecosystem Dynamics and Monitoring of the Beaufort Sea: An Integrated Science Approach".  The core of this research initiative is to improve the understanding of the Arctic marine environment through integration of physical, chemical, biological and social science, spatiotemporal dimensions, and management. The primary geographical scope of this study is the continental shelf and slope of the Beaufort Sea ecosystem from Barrow, Alaska, to the Mackenzie River delta in the Canadian waters.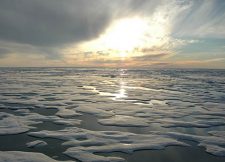 BOEM, in coordination with its funding partners — the National Oceanic and Atmospheric Administration, the Office of Naval Research, the National Science Foundation, the U.S. Integrated Ocean Observing System, the U.S. Coast Guard, the U.S. Artic Research Commission, the U.S. Geological Survey, the Marine Mammal Commission, and the Shell Oil Company — seeks to advance the overall knowledge of the Arctic marine environment and its role in the marine ecosystem.
The MARES study is taking place under the NOPP, which brings together federal agencies, academia, industry, and non-governmental organizations to support ocean research.  The award recipient, Stantec Consulting Services Inc.., will lead a team of U.S. and Canadian scientists and technicians on both sides of the border.  An independent scientific review board of internationally recognized experts will help to steer and peer review the project, which is planned for at least five years (2014 to 2019).
To learn more please visit.