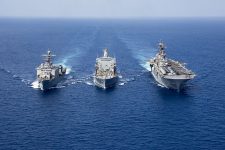 During the months of August and September, the NOPP office provided support to the Interagency Working Group on Facilities and Infrastructure (IWG-FI) as they continued to focus on fleet status and modernization. We also spent time with the Interagency Working Group on Ocean Partnerships (IWG-OP) and their work to continue to develop partnership opportunities and assist fledgling projects with organization and outreach. Please see our Seeking Funding Partners page for emergent projects that seek partners who have resources to contribute.
The NOPP office also facilitated a discussion about the Smart Subsea Cable Systems in Ocean Observing, a proposed effort to include acoustic monitoring devices on new telecommunications cable network that would enhance tsunami warning systems and explore the deep sea soundscape. More information on SMART submarine cable systems in ocean observing can be found here.
The NOPP attended:
Our summer intern, Margaret Lee, joined our team as a full time Program Coordinator. Please visit the office staff section of our website to meet Margaret!
To stay up-to-date on the NOPP, please follow us on Facebook and Twitter @TheNopp.