During the month of February the NOPP office hosted a workshop for ONR funded NOPP projects. The workshop brought together researchers working on models that incorporate atmospheric, land, riverine, coastal, and oceanic variables of the hydrological cycle. Improved models will assist in developing more accurate forecasts for weather events. The workshop discussions focused on ways to increase collaboration across current research projects, as well as forming new collaborations.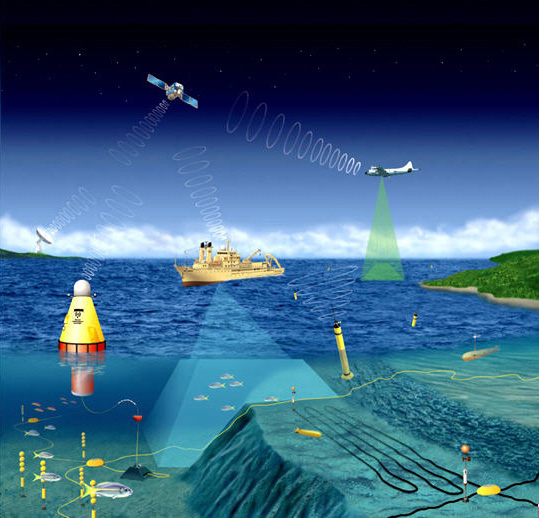 The NOPP staff attended two briefings in February. The first briefing was titled "Making a Difference: The Integrated Ocean Observing System (U.S. IOOS)." The first regional observing systems were funded through a 1997 NOPP Broad Agency Announcement, which later became a network of eleven Regional Associations, the key operational components of the IOOS. The briefing brought together representatives from Shell, the fishing industry, departments of health, and academia, and the U.S. Coast Guard to highlight the benefits these sectors have seen from the IOOS. IOOS data is utilized to improve search and rescue, inform maritime safety, manage harmful algal blooms, and inform environmental science, among other things.
The second briefing attended by NOPP staff in February was hosted by the Ocean Caucus Foundation and focused on the new Presidential Task Force on Illegal, Unregulated, and Unreported (IUU) Fishing and Seafood Fraud and H.R. 774: Illegal, Unreported, and Unregulated Fishing Enforcement Act of 2015. IUU fishermen gain an unfair advantage in the marketplace over law-abiding fishing operations which bear the cost of sustainable production. The goal of both the task force and H.R. 774 is to level the playing field for legitimate fishermen, to increase consumer confidence in the sustainability of seafood sold in the U.S., and to ensure the viability of marine fishing stocks. The briefing discussion focused on the 15 recommendations of the IUU Task Force and the role H.R. 774 would play in implementing international fisheries treaties. Both the Task Force recommendations and H.R. 774 were highly supported at the briefing by the President and CEO of Bumble Bee Seafood.
To stay up-to-date on the NOPP, please follow us on Facebook and Twitter.