In the month of June the NOPP office provided support to the Interagency Working Group on Facilities and Infrastructure (IWG-FI) as they continued to focus on fleet status and modernization. The NOPP office also supported the Interagency Working Group on Ocean Partnerships (IWG-OP) and their work to develop partnership opportunities.
The NOPP office hosted a kick-off workshop for ONR-funded NOPP projects under the research topic "Seamless Forecasting from the Deep Ocean to the Coast." The workshop brought together researchers from across the US that will work on inputs for coastal and ocean modeling including internal waves and tides, currents, surf eddies etc., as well as methods to improve model performance.
NOPP office staff also attended several ocean policy events to stay current in our ocean community: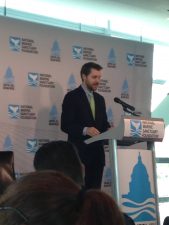 Two new Program Interns joined our team in June and will be with us through the end of summer.  Please visit the office staff section of our website to meet Lena Weiss and Margaret Lee!
The NOPP is continuing the Daily Ocean News, where we bring together ocean related news from local and national media, academic journals and corporate/trade sources.  If you are interested in receiving news and program updates please sign up here.  Also look for #DailyOceanNews on your Twitter feed.
To stay up-to-date on the NOPP, please follow us on Facebook and Twitter @TheNOPP.