"Atlantic Canyons: Pathways to the Abyss" Receives NOPP 2015 Excellence in Partnering Award
The NOPP Office is pleased to announce the 2015 Excellence in Partnering Award recipient:  Atlantic Canyons: Pathways to the Abyss. The project is led by Dr. Sandra Brooke of Florida State University, Dr. Steve W. Ross of the University of North Carolina at Wilmington, and Stephen Viada of Continental Shelf Ocean Sciences Inc.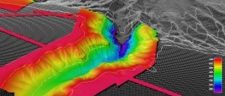 The project team consists of collaborators from private industry, government agencies, and academic institutions that coordinated the exploration and documentation of the deep-water and benthic marine habitats of two mid-Atlantic Canyons located offshore of Virginia and Maryland. This effort involved research cruises to the Norfolk and Baltimore Canyons from 2011 to 2013 that found unexpected extensive deep-water coral ecosystems, identified over 125 species of fish, discovered large swaths of chemosynthetic mussel communities, documented historically important shipwrecks off the coast of Virginia, and deployed innovative sensing technologies on the canyon floors to monitor their oceanographic characteristics.
Researchers completed a total of seven cruise legs with 90 at-sea days. The team conducted 414 hours of Remotely Operated Vehicle (ROV) dives and mapped 6,406 km2. An HD video documentary of the project that includes spectacular underwater footage of deep-sea coral habitats and the newly discovered chemosynthetic communities was completed in May 2015 and is available for viewing here.
Several scientific journal articles have already been published with more articles expected in the future. These include: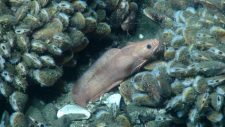 The NOPP Excellence in Partnering Award will be presented to 54 collaborators of the Atlantic Canyons project at the 2016 Ocean Sciences Meeting in New Orleans.