NOPP Program Update: July/ August 2016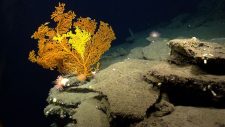 The NOPP Office spent the summer continuing to improve the recently launched NOPP.org while also providing support to the NOPP Committee and the Interagency Working Group on Facilities and Infrastructure (IWG-FI). The IWG-FI remains focused on fleet status and modernization, and the NOPP Committee is busy developing new partnership opportunities in ocean research.
The NOPP Office also facilitated a meeting for the Biodiversity Ad Hoc Group, a sub-group of the NOPP steering committee. The Biodiversity Ad Hoc Group's current topics of interest include Marine BON, deep-sea corals, and the Animal Telemetry Network.
NOPP Office staff was represented at the following events our continued commitment to tracking ocean policy issues pertaining to both resource management and science and technology research investments:
NOPP exhibited in Kansas City, MO for the 146th American Fisheries Society Annual Meeting, August 21st– August 25th.  NOPP staff engaged with the fisheries science and management communities about its activities and the potential for future partnerships.
The NOPP Office welcomes a new team member, Joanna Peth, as our Science and Policy Communications Fellow. Please visit the office staff section of our website to meet Joanna!
To stay up-to-date on the NOPP, please follow us on Facebook, Twitter @TheNOPP, and now on Instagram @nopp_org! To sign up for our mailing list, which includes funding announcements for new NOPP projects, enter your email address at the bottom of this page.