NOPP Program Update: April 2017
Another month has flown by here at the NOPP Office. This month, we were privileged to support:
NOPP Committee meeting, which continued to refine Broad Agency Announcement (BAA) language, establish timelines, and funding capabilities for all agencies involved. Stay tuned for the upcoming BAA out this year.
IWG-FI Committee continued its tracking of the location and condition of the Federal Oceanographic Fleet.
Biodiversity Ad Hoc Meeting saw updates from various NOPP research projects, including the winner of this year's Excellence in Partnering Award; the National Marine Sanctuaries as Sentinel Sites for a Demonstration Marine Biodiversity Observation Network (MBON).
The NOPP Office attended:
The Subcommittee on Ocean Science and Technology Workshop which revolved mainly around refining the language of the Draft SOST Ocean Research Plan.

A sampling of microplastics [Image Credit: NOAA's Response and Restoration Blog]

The NOAA National Marine Protected Areas Center webinar titled "Microplastics: NOAA Debris Program-funded Microplastic Research and Current Research Priorities". The webinar gave an overview of microplastics and detailed the numerous research programs funded by the NOAA Marine Debris Program.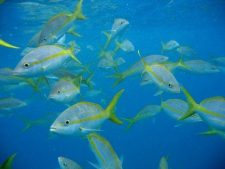 On May 26th, 2017, the 2016 Excellence in Partnering Award winners will be recognized at the MBON All-Hands Meeting in Washington D.C. The NOPP Office looks forward to celebrating this achievement with the collaborators of the MBON project. The registration deadline for the meeting is May 12th.
To receive updates on the upcoming NOPP Broad Agency Announcement and other important announcements, subscribe to our mailing list below.
To stay informed of all ocean news, follow us on Facebook, Twitter, and Instagram.